Banderole and overwrapping machines
All-round goodness
They protect your products – and make them look good at the same time: our banderole and overwrapping machines. They're real experts at what they do. Efficiently and reliably, they wrap cookies, wafers, chocolates, and other food and non-food products. In high-quality cellophane wrapping with or without a tear thread. Or they wrap them in practical paper sleeves. With their flexibility and large format range, the packaging machines are also versatile. And can be used for trays, boxes, and blocks, for example. But also in primary or final packaging. Or in between. That's where our machines and systems are really very adaptable. And this enables the greatest possible freedom when it comes to packaging design. There's more: the best aroma protection, for example. And sophisticated product presentation.
Smart packaging solutions, maximum tightness, and top product protection – if this is what you want for your cookies, chocolates, and wafers, then get in touch today and find out all you need to know.
Cellophane, paper, film – these are the preferred materials for our banderole and overwrapping machines. And with sealable, coated wrapping materials from the reel. Because then your products are guaranteed to be hermetically sealed and securely wrapped. Regardless of their format or whether they are single or multipacks. The upper and lower dies ensure that nothing is wrapped incorrectly. As does the flexible inline or 90-degree feeder. Of course, the LC series is also efficient and fully automatic – for the best packaging results.
LCM

The LCM cellophane wrapping machine wraps cookies, wafers, chocolates, and other food and non-food items. In full wrap and with a tear thread.

Cellophane wrapping machine for single and multipacks.

Particular benefits:

Second wrapping material possible for band
Tight, hermetically sealed packs
Multipacks can be produced
Easy to open the packs thanks to tear thread with pull tab
LCM-B

The LCM-B banderole machine reliably wraps pre-packed products in paper, cardboard, or film. Fully automatically and with a large format range.

Banderole machine for pre-packed products

Particular benefits:

Large format range available
Multipacks can be produced
Improved appearance at the point of sale
High speeds of up to 300 products a minute
Perfectly wrapped products are the hallmark of our banderole and overwrapping machines. As is their flexibility. In terms of formats – and pack styles. But that's no surprise. After all, we always design and develop our packaging machines in line with product requirements and your packaging needs. In this way, we ensure a truly personalized solution. And compatible systems that interact harmoniously with each other. From the feeder to the filled display carton. For the full wrap as well as the band around it. So that your product reaches the customer perfectly packaged and wrapped.
Have any questions about our solutions?
Find out local representative
Your central contact
Loesch Verpackungstechnik
GmbH + Co. KG
Mr. Thomas Czioska
Director Sales and Marketing
Tel.: +49 9545 449-0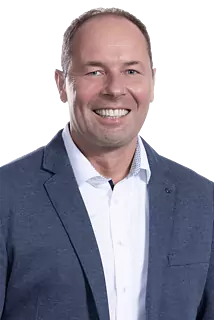 More than a packaging machine
Banderole and overwrapping machines aren't everything. We also supply
Haven't found what you're looking for?
Straight to the right solution for your product