Fold wrapping machine
It's a wrap
Sophisticated packaging for food such as chewing gum, chocolate, and other confectionery – no problem with our flexible fold wrapping machines. They can handle a wide variety of formats, folding styles, and packaging materials. Economically and efficiently. Even with unusual shapes.
In this way, we guarantee that – no matter what the product – each is given its ideal packaging: twisted, folded, or sealed. The folding box and wrapping head take care of that. For maximum protection, top quality, and the perfect presentation of your product.
We deliver the right wrapper – thanks to our many years of experience in packaging machine construction. Get in touch for personalized advice today.
Our L series fold wrapper machines are all equipped with a folding box. It can be used to package almost any type and shape of chocolate bar or Napolitain efficiently and eye-catchingly. Singly or as a multipack. In paper, foil, or cellophane. With inner and outer wrap.
From flat blanks or reels, the fold wrapping solution guides the packaging material and product to the folding box. Upper and lower dies ensure that everything goes the right way: they stay in a defined position relative to each other. For a precise fold. After all, that's what's needed for quality packaging at the highest speeds.
Our fold wrapping solution for chewing gum products ensure a fresh taste. No matter what their consistency and shape. The wrapping head's ingenious folding technology always ensures a high-quality wrap for sticks and tab gum. Grouped and optionally banded, they are always tightly packaged. Single packs as well as multipacks. At high to the very highest speeds. It's all accounted for.
GWS

The GWS horizontal fold wrapping machine reliably packs chewing gum at high speeds – as individual sticks and in multipacks. Quickly and continuously.

Automatic fold wrapping system for traditional chewing gum single sticks

Particular benefits:

Excellent single-stick packaging with zigzag or straight cut.
Flexible for traditional multipacks and modern carton multipacks
Fully automatic cut-and-wrap feeding possible
Manual or semi-automatic slab feeding devices, or fully automatic feeding with buffer in line combination (optional)
GWS-M

The high-end solution for chewing gum products: the servo-driven GWS-M fold wrapping machine processes chewing gum sticks continuously and tightly. For the best packaging quality.

Fold wrapping system for chewing gum sticks

Particular benefits:

Optimized high-end solution in the mid-speed segment
Maximum performance and efficiency in the segment
Increased production reliability through automatic ejection of faulty packs
GWT

As a modular fold wrapping machine with wrapping head, the GWT processes a wide variety of tab gum products. Flexibly and at the highest speeds.

Automatic fold wrapping machine for tab gum

Particular benefits:

Top performance and packaging quality for tab gum
Flexible processing of various chewing gum hardness degrees
Inline line configuration also possible
Manual or semi-automatic slab feeding devices, or fully automatic feeding with buffer in line combination (optional)
From double-twist wrapping to five-end-fold sealing and hermetically tight folds: our fold and seal machines with wrapping head from the R series pack round confectionery products in a wide variety of ways. Fruit gums and pressed candy, for example, but also small chocolate products and bars. As single packs or multipacks of pre-packed products. From medium to the highest speeds, they roll or wrap them – with open or glued longitudinal seams – in one or two packing materials. Gently, of course, with great packaging tightness, and with a premium look.
RCB

The RCB horizontal fold wrapping machine packs small chocolate products hermetically and at high speeds.

Fold wrapping machine with wrapping head for Napolitains, bars and small tablets

Particular benefits:

Seals packs completely without hot-setting glue
No product contact thanks to sealing – seals only film against film
Active cooling in the sealing element zone to protect product from radiant heat – optional
Maximum availability thanks to minimized start-up times, short setup times and format changeovers, and quick and easy cleaning
RPM

With its wrapping head, the RPM fold wrapping machine processes small products of all kinds: round, molded, and coated. Gently in single packs or multipacks.

Compact fold wrapping machine for roll packs

Particular benefits:

Vibratory feeding that is gentle on the product
Optimized footprint for minimized space requirements
Special designs for unusual product shapes and characteristics
Second wrapping material possible for band
Quick and easy format changeover for other pack contents
RPM-S

The RPM-S automatic fold wrapping machine packs round and tablet-shaped products in hermetically sealed rolls in a particularly gentle way. – Unique worldwide.

Automatic fold wrapping machine for roll packs

Particular benefits:

Extremely gentle product handling: vibratory feeding, reduced touch points, sealing only film against film
High format and pack style flexibility
Tightly sealed roll packs
Highest speeds
Great flexibility and maximum performance – that's what distinguishes our fold wrapping machines. And the fact that they're suitable for every product. To make sure of this, our packaging machines are also custom-tailored. To your needs and product requirements.
This results in efficient solutions and complete systems that harmonize perfectly – with upstream feeding systems as well as with downstream multipack machines and display cartoning machines. Because all our fold wrapping machines are one thing: flexible, economical, and uncompromising in quality. For success.
Have any questions about our solutions?
Find out local representative
Your central contact
Loesch Verpackungstechnik
GmbH + Co. KG
Mr. Thomas Czioska
Director Sales and Marketing
Tel.: +49 9545 449-0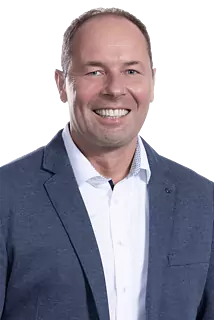 More than a packaging machine
Need more than a fold wrap? We can handle it. Find out more about our
Haven't found what you're looking for?
Straight to the right solution for your product